Not sure I've ever asked you guys to give towards something I'm involved in on this blog, but today that changes.
Today I'm asking for a birthday present.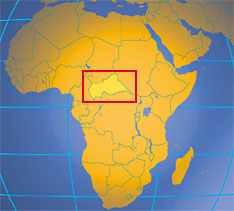 For the month of September our community here at BryanAllain.com is teaming up with 29 other blogs to raise money to build wells in the Central African Republic through Charity: water.
Our goal is a bit audacious: we want to raise $30,000. But I believe if we team up and all give a little, we can reach it. And in doing so, we can change the lives of men, women, and children in the Central African Republic forever.
You'll be hearing more about this campaign during the next 30 days. I'll try to keep the messages brief and to the point so you don't grow tired of them, but this is something I believe in with all that I am, so I won't make any apologies for it.
Today I want you to know 5 things about this campaign.
1. 100% of the money donated to Charity: water goes towards water projects. Private donors take care of all overhead.
2. $20 provides 1 person clean water for 20 years. According to Charity: water, if we reach our goal of $30,000 it will provide clean water to 1,500 people (300 families, 6 entire communities).
3. After you give, charity: water will keep you up-to-date with the status of the project you gave to, provide you with GPS coordinates of exactly where the well is being built, and take pictures and video along the way.
4. Scott Harrison, the founder of Charity: Water, leads these campaigns every September because it's his birthday month. I'll turn 34 on September 28th.
5. http://mycharitywater.org/30 is the site where you make your donation, and where you can track the progress of our specific 30 Bloggers, 30 Days, $30,000 campaign.
The story of charity: water (2009) from charity: water on Vimeo.
We have so much fun here at the blog laughing at each other, and we'll continue to do that this month and beyond. But I really want us, as a community, to come together and do something positive and lasting for those less fortunate. (and by "less fortunate" I mean "who are dying because they don't have clean water") That's why I'm asking all of you to give what you can to this campaign.
Here's the site again: http://mycharitywater.org/30
Thanks for considering.