Doing something a little different on the blog today in support of my friends Justin and Trisha and the book they co-wrote together.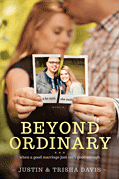 The book is called Beyond Ordinary: When a Good Marriage Just Isn't Good Enough, and it makes for a funny, compelling, and thought-provoking read.
You want drama? It has drama. Justin had an affair with someone his wife knew very well.
You want laughs? You will laugh. Their writing is honest and open. If you've ever been in an argument with your spouse, you'll grin your way through much of the book.
You want a better marriage? I hope so…even if you think yours is already pretty good. The book doesn't read like a self-help book, but I guarantee you will learn principles to make your relationship better.
Here's a 15-minute interview a did with Justin and Trisha talking about the book.
Like I said earlier, I know this is different from the typical fare here, but I believe so much in their message that I'm happy to share this with you today. Give the first five minutes of the video a listen to see what they're all about.
Oh, and you can pick up a copy of the book here: Beyond Ordinary. (affiliate link)