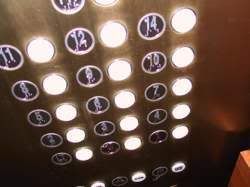 Seems like every few months I highlight Publishing Agent Rachelle Gardner's blog here at my site. Like I've said before, it's one of the best sources of information on the publishing industry that you'll find online. She writes openly and honestly on a daily basis about the things writers want to know about.
The past few days she's been discussing the concept of Elevator Pitches. She describes them as such:
Imagine you're at a writer's conference, waiting for the elevator up to your hotel room. The agent of your dreams walks up and stands beside you. He/she smiles and says "Hi." You manage to return a coherent "Hello" in response. "Enjoying the conference?" the agent asks. "Yes, it's great!" you respond.

The elevator doors open and you both step in. The agent presses 15. You press 17 (even though your room is on the 5th floor).

Agent looks you squarely in the eye and asks, "So what are you writing?" You now have 15 floors to make an impression.

? What will you say?
As for the purpose of your Elevator Pitch, here is her take:
"The purpose of your elevator pitch is to get someone to want to hear more. That's IT."
She asked her readers to submit their Elevator Pitches in the comments section, so I spent a few minutes working one up and sent it in. Over the past few days she has critiqued a handful of them and offered insight into how they could be improved.
This morning she chose 8 submissions as examples of Elevator Pitches that were almost there, saying "These have a chance of making an agent or editor want to know more."
I scrolled through the 8 she chose, and was excited to see that my pitch for Prayers For Blowouts was among them! Very encouraging way to start off the morning. Here's the Elevator Pitch I submitted to her. It's still a work in progress, but it's a start. If we're ever in an elevator together, feel free to ask me "What are you writing?" (and then enjoy the spectacle of me stumbling through it).
Bryan Allain: "It's called Prayers For Blowouts – The Christian's Guide To The Frequent Collisions of Sports and Faith. It's a humorous book that covers everything from a biblical history of sports to a Christian's guide to playing Fantasy Football to the athletes who love to namedrop Jesus after a big win. There's also some great stories from my life in sports that readers will relate to – from not making my little league team to where I am now as a sports parent for my two children. It's a book that will hopefully leave readers entertained and encouraged that sports are more than just a trivial distraction to their spirituality."
Are elevator pitches applicable to other occupations outside of writing? I think so. If  you were stuck in an elevator with a well-respected leader in the industry you work in, and he asked "what do you do?", do you have an elevator pitch? I'd love to hear it…