Just got back from a whirlwind tour of the Southeast…here's what went down.
Mon – 10:00am (Huntsville, AL) – Yesterday was a long day of travel. I was basically moving very fast from 2pm until 10pm between driving and flying. it was enough to give me a migraine and some nausea. But I slept well in this La Quinta last night and this morning I checked my email and watched SportsCenter without getting out of bed. if only every monday morning was so relaxing. We've got a 2-hour drive north to Nashville ahead of us. it's actually a little cold here as well, good thing i brought my Brasil Track Jacket that i picked up at Target for $12 a few months ago on the clearance rack. gotta love the Target Clearance rack…it's a thing of beauty.
Mon 3:00pm (Nashville, TN) – Geof and I finally made it to Andy Osenga's house. We piled in 1 car and headed out to this southern cooking place called Monell's with Andy and Randall Goodgame. Jeremy Casella met us there. The food was amazing. and we were stuffed. Lots of great convo. Lots of good food. I enjoyed the meatloaf, which is something that i dont think i've ever said before. We stopped back at Andy's house for a few minutes to hang, and then left Andy and Randall to write for the new Caedmon's record. The plan is to stop by Katy Bowser's house to take pictures for her website, and then meet Jeremy Casella for coffee.
Mon 6:00pm (Nashville, TN) – Met Jeremy Casella for coffee at Bongo Java. We got to talk and ramble about lots of stuff for a while, which i loved being able to do. He's a cool guy, and he's probably reading this, so let me also say that he is a wonderful human being. Before he left, he played us a few tracks from the CD he's in the studio recording now and it sounded amazing. really cool and really different from what i expected. so i'm really excited to see what the finished product sounded like.
The bathroom walls inside Bongo Java were cool. I took a picture because I'm a doofus.
Mon 10:00pm (Nashville, TN) – after driving around Nashville for awhile, we met up with Derek Webb at this cool place called Fido's for a beer. We were all hungry so we headed over to the San Antonio Taco Company for some grub. It was incredibly good. i had a pulled pork burrito, a beef burrito, and a chicken burrito. And then i was stuffed. Not the best decision I've ever made at 11:30pm at night…but not the worst either.
Tue 12:30am (Nashville, TN) – so now i sit, stuffed to the stinking gills, on derek webb's couch as derek, geof, and i all check emails on our laptops. their Mac laptops are giving my PC laptop dirty looks. the jerks. We're going to crash here at Derek's tonight and then head south with Derek tomorrow around lunchtime. It's a 4-hour ride to Birmingham. should be fun. looking forward to hearing Derek play and seeing Don Miller speak tomorrow.
Tue 10:00am (Nashville, TN) – woke up this morning in the spare bedroom at derek's house. we were up talking until 2:30am or so, which was fun. Derek's into LOST now, so that's always a plus. Talked about lots of random stuff, as folks tend to do when they're tired. (editor's note: I couldn't post this on the blog at the time, but Derek and I talked about him re-joining Caedmon's Call because I had heard some rumors from the band. Less than a year later he recorded Overdressed with them.)
Speaking of where i slept, Derek was telling us about their friend Allan Heinberg, who lives out in L.A. Allan writes for Grey's Anatomy, writes comic books, used to write for Gilmore girls, and is obviously cool. He's actually the Co-Executive Producer for Grey's Anatomy, the #1 show in the country right now. that makes him me pretty cool in my book. and the fact that i thought it was cool to sleep in the same room he slept in a few weeks ago when he stayed with derek and sandra basically makes me uncool. and i'm ok with that.
About to leave Derek's house. But before we do, I need to snap a pic of his guitars…pretty maids all in a row.
Tue 1:00pm (45 minutes south of Nashville, TN) – Uh oh. the temp of Geof's truck starting to go up and the the gage was pegged. We pulled over and smoke/steam billowed out from under the hood for about 15 minutes. We were broken down on a major interstate. 30 minutes later Butch showed up to tow us into Pulaski, Tennessee.
We sat at the local mechanic's place for over an hour while they figured out that the belt that drives the alternator and water pump was gone. Quick fix right? yes, until they found the huge crack in the radiator. ouch. these were not the best times.
an hour later we were back on the road in a rental car. Geof decided to get his car fixed and then i think he's gonna sell the thing. We stopped at Chik-Fil-A for some energy and made it to the venue an hour before the show. Snuck backstage a few minutes before showtime and got derek to burn us a copy of his new double-disc project. no new songs, just different versions of other songs. Also got to say hi to Don Miller again, so that was cool. he was like, "wait, you dont live around here." and i was like "yeah." then we had a long fistfight and i won.
Had to get a picture with Derek and Don. They look happy, don't they?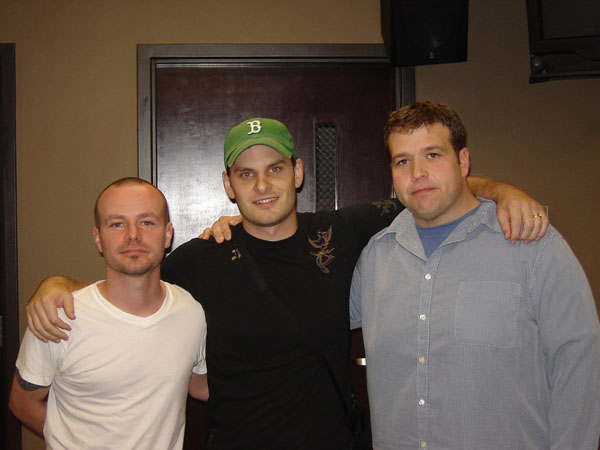 Tue 10:00pm (somewhere in Alabama) – Derek's set lasted an hour and was pretty good. highlight for me was "What you Want". Don spoke afterwards and it was intriguing as always. lots of good stuff to think about.
Funniest moment of the night was some guy who recognized me from pictures online because of the Caedmon's Ecuador trip. He was even wearing a caedmonscall.net sweatshirt. haha, thats my website! i was obviously loving it!
so now i sit in a Sleep Inn in Alabama. excited about flying home tomorrow to see my best friend and my kids. Being away from home so much reminds me how much i love being there. These trips are fun for sure, and I've got some great memories and some pics to share, but there's nothing like being with my family. man i cant wait. seriously, i cannot wait.
bry